Just started new business!!
2021.2.17
Just started new business!!
We are pleased to inform that we just started new business in this year 2021. We can teach Japanese language to foreigners working in companies and their family and so on. We'll support you and your learning Japanese language!!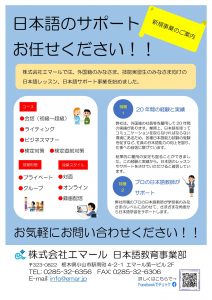 Do you have any problems such as...
・We have some troubles communicate with employees from overseas.
・We don't know how to make them understand Japanese business manners.
Please feel free to call us and ask anything you want.
We make our effort to settle your problems in detail!
<Contact>
EMAR Co., Ltd. 
TEL 0285-32-6356(Kiyochi)
Mail info@emar.jp
FB https://www.facebook.com/emar.emar.90281943